Product name: extract from angelica sinensis
Plant origin: dried root of Angelica Sinensis(Oliv.)Diels
Plant origin: Southeast region of Gansu, Yunnan, Sichuan, Shaanxi, Hubei
Effective constituent: 10%~20% polysaccharide 1% ligustilide 0.3% ferulic acid
Product specification: 1%~10%
Testing method: HPLC/UV
Appearance: light brown to brown powder
Smell character: special smell
CAS No.: 4431-01-0
Molecular weight: 190.24
Molecular formula: C12H14O2
Structural formula: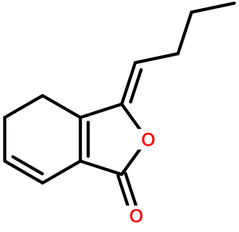 Function and uses:
It is rich of microelement. It has function of skin care. And it is used for treatment of acne, foxiness, freckle and etc. In addition, it can be used for decreasing blood pressure.
Above information has not been approved by State Food and Drug Administration yet. From published document and for reference only